Quick Points

Finish Fast!
Secure Registration
24 Hour Support
DMV Licensed & Bonded
Take the course as many times as needed
Express Processing!
100% Money Back Guarantee!
SIGN UP & Pay Online now with a Credit Card, or use our very popular Start Now Pay Later option

Sign Up Now!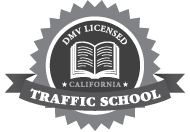 Referred to this by a friend - thanks for the funny, random comments inserted in between the text. and for the colloquial tone. easy to follow along as opposed to dry stats and figures.
- Julie S
This course was much easier to understand because you can focus on the areas where you are weak and breeze through the areas you may only need to read once. Thank for your support.
- Peter G
Enjoyed the course very much. Easy navigation and straight forward.
- Michael W
More About Our Services
Satisfaction Guaranteed
FinishTodayTrafficSchool.com is committed to complete customer satisfaction and to prove it, we have an absolute money back guarantee! If, at anytime, during the study course you are not completely satisfied we will refund your money. NO QUESTIONS ASKED! (Once you have passed the final, the guarantee is null and void. In addition, this guarantee is null and void 30 days after the due date has expired.)
Fast, Fun, and Easy
You don't have to waste time in a classroom to mask a traffic ticket. There's a faster way, with FinishTodayTrafficSchool.com. If you have a computer and an internet connection you can take the course online whenever you want, day or night. We offer an online traffic school course that's fast, easy, and convenient. With our self-paced course you can finish the test in less than a day or log in and out whenever you want, it's that simple!
Safe & Secure
FinishTodayTrafficSchool.com is equipped with one of the industries leading security software. You will feel safe and secure knowing that your information is safe and protected from theft. Our credit card processing system uses a Secured Socket Layer (SSL). That means your information is encrypted while it passes through the internet. FinishTodayTrafficSchool.com surpasses the competition in security, technology, and quality.